The MSGINA easter egg in Windows XP
Microsoft introduced the graphical identification and authentication (MSGINA) in Windows 2000 and was available till including Windows Server 2003. MSGINA provides secure authentication and interactive logon services. It also provides customization through replacement of the file msgina.dll in the system directory.
After Windows XP was released I got a job to develop a replacement for msgina.dll. My first action was to study, which functions are exported. After, I took a look into the into the resources. While I scroll downward I read a text which sounds like ...got very poorly and decided to end.... This text was located in dialog ID 2210. In full text: The computer got very poorly and decided to end it's own suffering.
Dialog 2210 belongs to the Shutdown Event Tracker which is usually activated in Windows 2003 by default but deactivated in Windows XP. I tried to enable Shutdown Event Tracker and bring up this dialog in Windows XP Professional by a description, provided by Microsoft Support, without luck. I inspected also the same DLL shipped with Windows Server 2003. But this text don't exitst in this DLL version.
I wrote a small program, which consists only of a few lines to bring up this dialog programmatically.

program MSGINAdlg2210;

uses
  Windows, Messages;

function DialogProc(Handle: HWND; uMsg: UINT; wPm: WPARAM; lPm: LPARAM): NativeInt; stdcall;
begin
  Result := 0;
  case uMsg of
    WM_COMMAND:
      begin
        if LOWORD(wPm) = IDOK then
          begin
            EndDialog(Handle, IDCANCEL);
            Result := 1;
          end;
      end;
    WM_CLOSE:
      begin
        EndDialog(Handle, IDCANCEL);
        Result := 1;
      end;
  end;
end;

var
  Handle: THandle;
begin
  Handle := LoadLibraryEx(pchar('msgina.dll'), 0, LOAD_LIBRARY_AS_DATAFILE);
  if Handle <> 0 then
    begin
      DialogBox(Handle, MAKEINTRESOURCE(2210), 0, @DialogProc);
      FreeLibrary(Handle);
    end;
end.
This program will load msgina.dll as a data module and shows the dialog ID 2210. There are also a few lines in order to close the dialog again by clicking on OK or the X button in the upper right corner.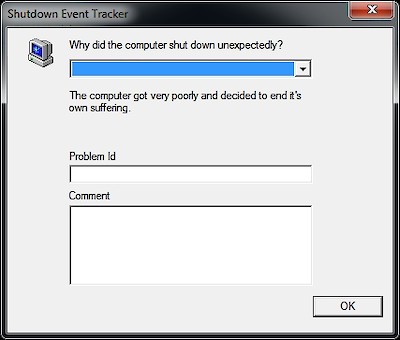 The text in the German version of this DLL sounds more funnier. Der Computer ist verarmt und entschied daher, in die ewigen Jagdgründe einzugehen. Translated to English it means: The computer got very poorly and decided to go into the eternal hunting grounds.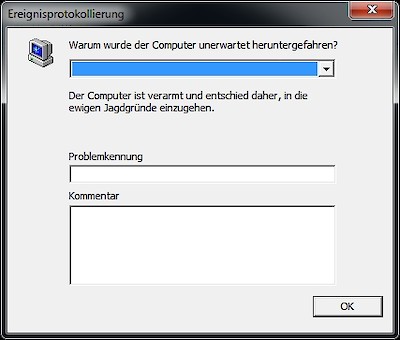 The download below contains the program with source code as well as the msgina.dll for testing on Windows other than Windows XP Professional.
Download:
Categories:
Windows
Uncategorized