Visitor Tracker for Wordpress
Visitor Tracker is a simple plugin for Wordpress, which logs visitors of your homepage. Records including IP-address, browser, operating system, requested page as well as the originate page. Please node that this plugin is no longer supported since I don't work with Wordpress anymore.
This plugin comes also with a feature to measure the actual time a visitor looks at the page. A similar feature is being offered in Google Analytics. Google call it Avg. Time on Page.
Searching for a good definition in Google's «Analytics Help» how the «Average Time on Page» will be calculated brings no result. But searching for the «Average Session Duration», leeds to this page: https://support.google.com/analytics/answer/1006253?hl=en
There we can read, that the «Time on Page» is the result of the calculation of the time between two page hits (requests). No matter, if the opened tab is still in the foreground or the visitor went to the toilet. There is also another fact. Google can't measure the time a visitor spent looking at the last page of their visit of a site. Please note, that this post was written 2018. It could have changed in the meantime.
Other than Google Analytics, this plugin starts the measurement, when:
the page is opened
the tab with the already opened page is brought into the foreground
an user input occurs after the idle timeout of 60 seconds
The time measurement is stopped, when:
the tab with the opened page is no more in the foreground
the tab with the opened page will be closed
the browser is closed
after an idle timeout of 60 seconds without user input
The tab «Time of View» shows the time a visitor looks at the page including IP address, country of origin of the IP address, used operating system as well as browser and referrer URL.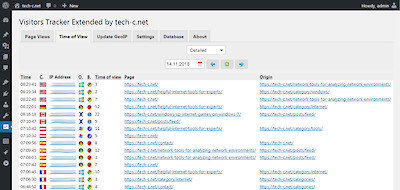 Listed in the official Wordpress plugin directory:
https://wordpress.org/plugins/tc-visitors-tracker/
Change log:
Version 1.0.0: Initial version
Version 2.0.0: First public release
Version 2.1.0: Last version, not listed in the official Wordpress plugin directory
Published: 16. Nov 2018
Categories:
Wordpress
CMS
PHP